April 26, 2007
This Asian garden design work started with a new concept for the driveway.  We introduced a turn-around and relocated a portion of the drive improving the approaching views to the house.
The raised boardwalk within the entry garden was designed by the architect, Peter MacDonald, who also designed the addition and remodel work.  We picked up where Peter left off, by specifying the entry walk stone and installing a grouping of three large specimen boulders, or ishi-gumi, near the front door.  These stones were placed close to the house in front of the dining room window and there-fore visible from all sides.  Small roof areas drain down two rain chains, through underground piping and out into the dry stream bed.
The dry stream garden was introduced in an area of low light that was often wet from existing drainage patterns, and as a result the lawn area was not growing well.  A dry stream seemed a perfect fit.  This garden area also allowed us to create another experience for the owners and/or guests enjoy the outdoors of the home.
Situated between the tail end of the dry stream garden and the dry garden below the deck is the spa garden.  This lushly planted garden is enclosed by a berm following a carefully selected radius creating a small and private garden.  This area blends Japanese, Chinese and western garden design principles with the end result feeling very Asian.  The garden was designed with two key vantage points in mind, the first being the view from the adjacent spa room and the second was from the main floor lakeside deck.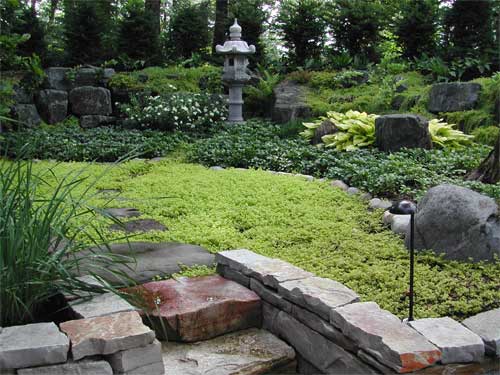 The dry garden, located below the lakeside deck, was a simple solution taking an ordinarily negative area and turning it something more interesting and more consistent with the Asian influence of the entry, dry and spa garden areas.
The remaining areas on this, the lakeside, of the home are more traditional in character with large open lawn areas, simple planting beds, exposed aggregate walks and a fire pit on top of the bluff over looking the lake below.
Another feature of this project is the Monet garden, to read more and see photos go to the Monet garden article located under the heading, Portfolio & Co. Info.