April 27, 2007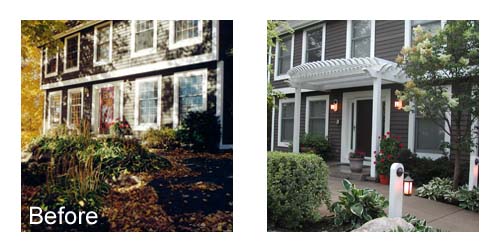 We envisioned a new switchback drive that would take vehicles through a garden like experience passing by the existing pond, natural grasses, perennials, shrubs and provide a pleasant view of the entry court and arbor before entering the auto at the top of drive.  As each course of the field stone walls were constructed, we backfilled and compacted the heavy clay soil.  Instead of building retaining walls completely around the auto court we graded a steep slope on side towards the street and planted it with junipers and transplanted daylily.  This really helped to green up the view from the street.  We also installed 24" wide granite steps for an easy path to the lawn area and mailbox below.  We drained the auto court with a commercial grade concrete bell housing and 15" dual flow pipe.
The basketball hoop was installed at the edge of the auto court facing the neighbors, with a backdrop net supported by flagpoles.  Once parked, guests are drawn into the new entry court, with decorative post lights.  These posts match the detailing and lights Niwa specified and installed on the house. The entry court is set-off by the new arbor, or pergola, structure, which truly gives the front of the house a sense of entry.
The first loop the woodland garden path was constructed by installing a flight of 48" wide granite steps from the entry court and another five granite steps at the edge of the drive.  We used crushed granite for path itself.
In addition to our original design we were asked to add a patio in the back yard.  To protect the existing trees we designed a donut shaped patio that allowed all of the significant trees to survive.  We used concrete brick pavers for the patio and walk and installed three granite steps for the future woodland garden.  This garden path will connect to the first loop already constructed between the entry court and the drive.  This pathway will also complete the circulation around the house proper.
If you would like our help with your arbor or pergola project please contact us, Niwa Design Studio, at 952-470-1882.