April 27, 2007
Koi pond landscape design – Edina, Minnesota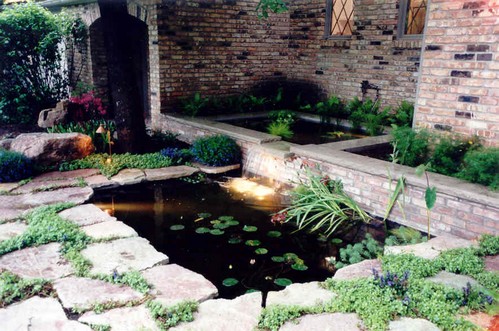 The existing flower bed sloped from the driveway to the street and had large shrubs close to the drive.  This made the bed a focal point from the street, but the large shrubs made the guest parking area feel too small, they also blocked the perennial garden from view.  We constructed a new limestone retaining wall near the property line and parallel to the street.  Because of this wall the perennials garden now slopes towards the house making the garden visible from the front of the house.  The hedge on top of the wall provides a nice back drop for the shorter perennials, blocks the street from view along the front of house and creates a elegant clean look from street.  The modifications to the drive were small changes to radius points, widths and the details.  The new concrete entry walk runs along the edge of the guest parking and drop off areas and then perpendicular bring guests to the cover area at the front door.  The hierarchy of the walk is established the choice of materials and the width of the walk.  The portion of the walk along the edge of the drive, is broom finished concrete, while the perpendicular walk is bordered with broom finish concrete and inlayed with mortared flagstone.  Adjacent to the walks are dry laid flagstone with groundcover perennials growing between them and the features Koi pond.  The pond is a two tiered concrete, brick and stone feature.
The introduction of the Koi pond and waterfall feature transformed the entry area from a nice but ordinary space into a dynamic garden with movement and sound.  When we finished the project and filled the pond with water the following spring, it was truly exciting, and the addition of aquatic plants and fish brought the already capturing feature to life.  At night the guests are welcome by the illuminated pool of water and the sound of the waterfall.  The pond uses a hardwired pump and underwater lights.  The flow of the water is controlled by open, or closing, the cover with holes in threading that feeds into the bottom of the upper pool.  The water in the pond also flows through a bio filter, which is important for the Koi.  The pump is covered with a large piece of limestone that matches the dry laid flagstone area surrounding the pond.  We used dry laid stone so that we could plant the area around the lower pool with a perennial groundcover.
In addition to the front of the house we also installed a new floor and drain in the conservatory, where our client keeps a wonderful collection of orchids, sculpted the lawn in the back and added more perennial planting beds.
If you would like our help with your koi pond, or landscape project, please contact us, Niwa Design Studio, at 952-470-1882.
You can also visit Japanese Garden Journal for more information about Japanese Gardens.