April 26, 2007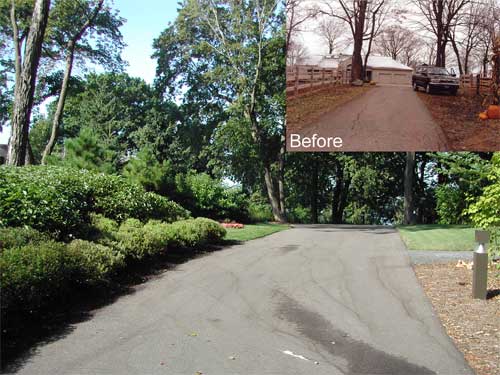 From the house to the driveway we used several different materials with defined a change in use and level of importance.  Asphalt was used for the long stretch of drive and turn-around, or circular driveway section.  In the areas closer to the home where the quantities of material were more modest we transitioned to concrete.  The vehicular portion of the drive is exposed aggregate and the combination walk and curb is broom finished concrete.  The change in material and the change in elevation, the curb, clearly define the line between vehicular and pedestrian use.  The edge of the exposed aggregate drive separating the asphalt follows the curve of turn-around, using the same radius point.  From the concrete walk guests follow the raised entry boardwalk to the front entry door.
After the new driveway was conceptually designed we then started to develop the areas around the house and barn.  The schematic layout identified a number of outdoor rooms.  These rooms were the entry garden, dry steam, spa garden, dry garden and the Monet garden, to read and see more photos about this project go to the Asian garden influenced landscape project article located under the heading, Portfolio & Co. Info.
When designing a new driveway there are a number of factors to understand and study.  The first is to know how much space is needed for comfortable and functional use of the drive.  What is the standard turning radius for a car, truck or a moving van?  How wide should the driveway be for one, or two cars if you are planning to provide parking along a portion of the drive near the front entry.  Do you want to transition your drive from one width to another.  What about drives that need to travel up, or down, hills… what slope is too steep?  How are you going to drain your new drive?  On steeper sites the drainage, or runoff, from a driveway can often create erosion problems.  In cold climates you also need to have a plan for snow removal.  These are the types of questions we answer when developing a new driveway layout.
Driveways, like parking lots, are interconnected to the walkways that link the parking areas to the intended destination.  Because owners often enter their homes through the garage, after parking their cars, the entry walk from the driveway, or guest parking areas, are typically for guests and should designed with this understanding.  It is important to understand the relationship between these two areas and have them flow smoothly both functionally and aesthetically from one to the other.
<strong>If you would like our help with your driveway or landscape project please <a href="http://www.niwadesignstudio.com/contact-us/">contact us</a>, Niwa Design Studio, at 952-470-1882.</strong>