April 27, 2007
This landscape design project was featured in the 2000
parade of homes
in Minnesota and combined many design elements including a fountain and Japanese style "dry garden".
The asphalt driveway flows around a heavily planted island that was used to soften the impact of the hard surfaced area and provide screening of the neighbors' home across the street.  This island was later enlarged to provide additional screening.
The front entry court was designed with a bottleneck walk that is wide enough to comfortably receive guests parked in the driveway, narrow their approach and then open up into a cozy entry court.  The entry court is defined by the inlayed wolf creek slate patio, which is framed by a wide broom finished concrete band.  A large wing bench provides a comfortable place to sit in the sun and chairs on the stoop a place in the shade, with the mill stone garden fountain visible from both.  The large four foot deep fountain pool contains enough volume that the water flowing through the mill stone stays relatively clean and an auto fill attached to the mainline of the irrigation keeps if filled to the proper level.  From the entry court narrow 24" wide granite steps provide a pathway through flowering perennials to the lower lawn.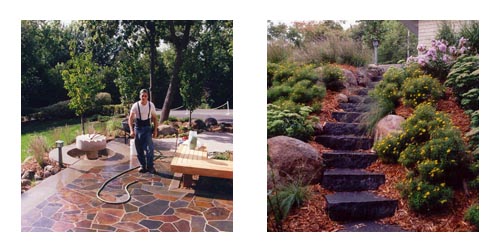 Along the garage on the northeast side of the house we built a spacious service path to the storage / work room below the garage.  The pathway also leads to a Japanese inspired dry garden under the screen porch attached to the main level deck.  We hand picked three stones and set them in a vertical position for our ishi-gumi, or stone arrangement.  The stepping stones, or tobi-ishi, were hand cut and shaped on site for the garden with two of them set into the concrete walk at the lower level door.
The path through the dry garden leads to the back patio and observation deck.  A gas fire pit is set into the sand finish concrete patio featuring a boulder-sitting wall.  In addition to these project elements, an extensive drainage system was installed, boulder outcroppings, lighting, irrigation, deck stairs, specimen boulders, plantings, edging and mulch.