April 27, 2007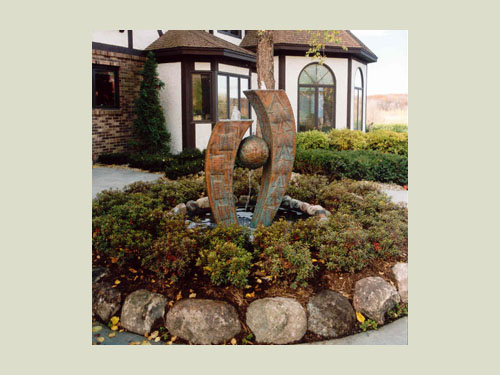 The primary problem that needed to be solved was caused by the runoff from the roof, which fell at the entry of the home and formed a bed of ice during the winter months.  To correct this we installed electrical heating mats into new concrete entry walk.  There are two types of snow melt systems.  One is water based that pumps hot water through tubing in walks and driveways.  The use of water outdoors requires that these systems run constantly throughout the winter months, this is, of course, very expensive and not good for the environment.  The other system uses electrical heating elements, or mats, that are installed into a walk, or drive.  The advantage of using electricity is that these systems can be turned on or off at anytime, and therefore only use energy when it is truly needed.  In the case of the ice problem in Mound, Minnesota, the electric mats have worked great.
The new heated entry walk featured a copper water sculpture that can enjoyed, or viewed, from all a sides.  The entry walk curved around the circular pool of the fountain with a stepping pad walk that provided a short through a bed of perennials from the guest parking area to the front door of the house.  A brick planter was constructed between the entrance to the foyer and the new mudroom.  The cap was set at a comfortable sitting height to sit and watch the water spill from the top of the three separate elements of the sculpture.  The walk was a slate textured concrete colored to compliment the existing materials of the home.  The new drive provides ample parking for guests and incorporates a half court basketball area.
We also designed and installed a flower garden and pathway on the opposite side of the home.  We installed crushed aggregate and granite steps for the pathway connecting the back entrance of the new mudroom to the pool deck.  The plantings around the pathway were simple and clean, while the flower garden in an upper terrace incorporated a greater variety of perennials.